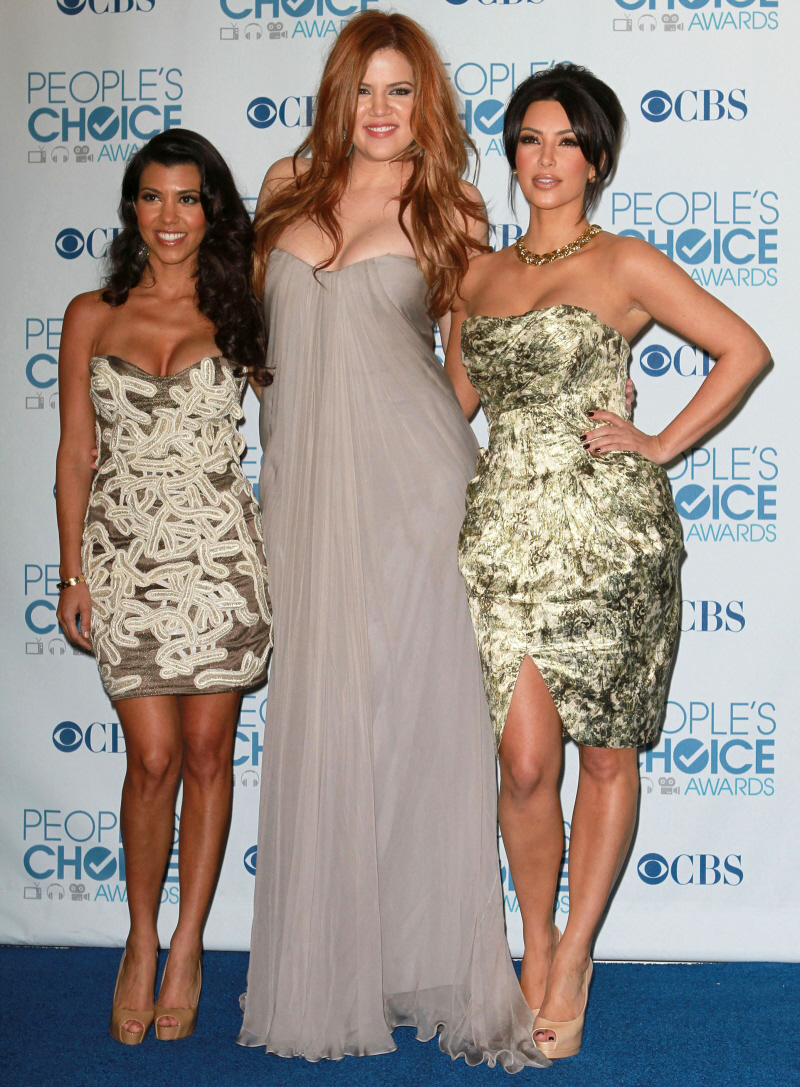 A few months ago, Kim, Khloe and Kourtney Kardashian attended the launch of theirnew credit card (Mastercard) for the whooping sum of $75,000 – just for one appearance of less than an hour. Shortly after the Kardashian credit card launched, it came under wide criticism, not just for the general vapidity of the idea of "The Kardashian credit card" but for the enormous fees, charges, etc, associated with the card. Shortly after that, the Kardashians pulled their support/endorsement of the card,citing "ethical" reasons. Because when you think of "Kardashian" you think of "ethics". Anyway, now the Kardashians are being sued for this whole mess. The lawsuit? It's for $75 million. Katastrophe!
The Kardashians have maxed out their good will. More than a month after pulling out of a debit card venture that had attracted nothing but negative attention, the company that licensed Kim, Kourtney and Khloé's images has sued the sisters, mom Kris Jenner and their company Dash Dolls for $75 million, claiming they breached their contract by abruptly terminating the deal.

Revenue Resource Group's complaint, filed Thursday in Fresno, Calif. and obtained by E! News, states that the Kardashians had a two-year contract and that RRG has been weathering a bad PR storm since the E! stars pulled out. And why did they do that again?

Upon its launch in November, the Kardashian Prepaid MasterCard was immediately criticized for harboring hefty hidden fees to activate, replace, etc. Consumers Union, which publishes Consumer Reports, dissed the card, and the Connecticut Attorney General's Office demanded further disclosure from card issuer UniversityNational Bank, accusing the Kardashians of "marketing a dangerous financial fantasty."

Not wanting to be linked to the alleged shadiness any further, the Kardashians' attorney sent a notice of termination letter to RRG on Nov. 29. Consumer Union issued a statement applauding the move. And it seemed as if the controversy had blown over…But not everyone was applauding.

"The company waited a month to file hoping this would work out. They didn't want to sue," RRG head attorney Scott Rudd tells E! News.

RRG "spent a great deal of time and effort securing the rights to use the Kardashian card," Rudd says. "RRG is an independent sale organization, which gives it the right to market pre-paid debit card." The Kardashians walking away has "effectively put this company out of business."

As for the allegedly prohibitively high fees, Rudd says that the card fees "were in line with other debit cards."

Team Kardashian is not commenting on the lawsuit at this time. A case management hearing has been called for May 2.
[From E! News]
Ugh, so dumb. It was dumb to agree to this endorsement for a credit card, it was dumb to promote the thing the way they did (like it was a club opening), and it was dumb to pull their endorsement the way they did, which likely was in violation of some sort of signed contract. Now, do I think $75 million sounds reasonable? Not really. It looks more like the family of fleecers is becoming the fleeced.
Latest posts by DELUX Magazine
(see all)