This past Friday at The Ready Room was, 'The Night of the Unfriendly Black Hottie', presented by Knox Ent. + Stag Beer and brought to you by Llmanny and special guests. Filled with empowerment and expression a diverse crowd celebrated and enjoyed themselves while DJ Nico Marie got busy on the turntables.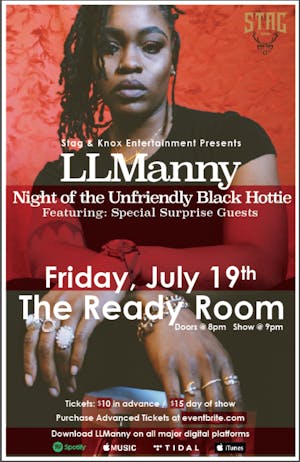 Llmanny brought out the hottie's too – so many hotties and while Loutribe Jigg, the shows opener – and only male performer — had an incredible set, it was clear that the night or rather the stage belonged to the women.
Next to take the stage was Bates, a highly decorated female emcee and founder of Femfest. With a set that lasted 30 minutes Bates and band mates The Strangers covered several numbers setting the stage for who manager Alonzo Townsend describes as 'The Empress', Llmanny herself would soon take the stage!
Hot summer nights are nothing unusual here in St. Louis but Llmanny set the room aflame donning a silk red dress and opening her show to "Soul Glo" off her 2018 Soul Glo EP. Backed by a live band the room was in a trance captured by the cadence, rhythm, and tone of Llmanny's voice.
"The night for me was about bringing my seat to the table, then moving that table just to bring my own. About showcasing the future of St. Louis' rich hip hop, soul and music scene. But even more showing the continued rise of the phenomenal strong black female emcee…"

-Llmanny The Unfriendly Black Hottie
"The queens like MC Lyte and Latifah birthed us…and while y'all may have forgetten because nowadays "sex sells" … There are still alot of us that want you to pay attention to our WORDS. I've arrived."

-Llmanny The Unfriendly Black Hottie
Closing out the show Llmanny charged up the crowd with the latest single to her new video "Esta Fuego" bringing the crowd to a frenzy as the females danced and twerked to a new summer anthem. This show hit all the right notes a great stage and lighting, incredible performances, and music lovers ready to have a great time!
Stay tuned into Llmanny by following her on Social Media at Twitter, Facebook, and Instagram!
Background Header Photo by: @cbauerphoto
Latest posts by DeWarren Smith
(see all)