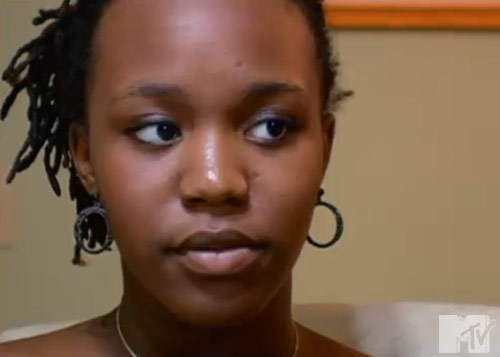 The "16 and Pregnant" abortion special, "No Easy Decision," will air tonight on MTV at 11:30 pm EST. As we've heard, it follows 19 year-old castmember Markai Durham as she makes the choice to abort her second pregnancy. Durham claims that her second pregnancy was a legitimate accident when she forgot to get a follow-up birth control shot and didn't realize that she needed another one at that point. She has a Facebook page administered by a friend through which she's been discussing the special and defending herself. MTV has supposedly barred Durham from doing interviews ahead of the special, and The NY Post reports that the show has not been released to the press ahead of the air date. Pro-life groups are upset at something they perceive will glorify abortion.
MTV — first accused of glamorizing teen pregnancy with "16 and Pregnant" — is now facing charges it's promoting abortion with a controversial new show airing tonight.

On the show, Markai Durham, who was first seen last month on "16 and Pregnant," discovers she is expecting again and must decide whether to have the baby.

Her decision to terminate the pregnancy is the centerpiece of "No Easy Decision" and has pro-lifers up in arms.
The show is so unusual, MTV scheduled it to air at 11:30 p.m. — well past the bedtimes of the network's youngest fans.

TV did not make the show available to the media before it airs and has forbidden Markai to give interviews about the subject.

Still, in social media postings, the 19-year-old Florida girl has been preparing fans for the intense drama.

"I get sad from time to time thinking about it but then everything happens for a reason," she wrote. "God gave me 3 paths to take abortion, adoption, or raising this baby along with another.

"I chose this path and I think about how stressing things would have been if I haven't made the one I've made."

Markai, who gave birth to daughter Za'karia in October 2009, has been seeing a therapist to cope with her feelings, and spent the past week answering questions about her decision on Formspring.com, where other "16 and Pregnant" alums connect with their fans.

In a posting Christmas Eve, the teen, who admits that, in the past, she abused drugs and slept with "different men every other night," says she and boyfriend James were using birth control when the second pregnancy occurred.

"I just never knew it ran out," she wrote. "They give you a time limit to get the shot again. [It's] like days-days, so I thought I had time. I guess not."

In recent months, MTV has promised to tackle "all sides" of the hot-button teen pregnancy issue.

But pro-life blogger Jill Stanek says she expects a one-sided portrayal.

"This apparently means the pro-life perspective will simply get tackled," she writes, noting that the official Web site only links to pro-choice groups, including the National Campaign to Prevent Teen Pregnancy.

Stanek also points out that the show was done in cooperation with Exhale, a support group for teens who have had abortions.

"Anytime anyone can help tell stories about women who have had abortions, we see that as a good thing," says Erica Johnson, an Exhale counselor.

Markai's story "is very much in line with the stories we hear on our talk line. A large number of women who have abortions already have children.

"They are wanting to do the best thing for the children they have and they really struggle with whether they can do it a second or third time."

"She didn't expect to be ridiculed and put down about it so much," Markai's Facebook page administrator writes.
[From The NY Post]
I'm going to say basically the same thing about this that I said in our last story. I have no problem with abortion. I do have a problem with MTV exploiting these young girls for television. As many of you point out in our stories on Amber's abuse of Gary – why didn't someone filming her abuse step in? She slapped and choked the guy in front of a camera crew equipped with lights and gear. There had to be a few people there and no one stopped Amber on three separate occasions or even made the executive decision not to air that footage!
So now there's a girl who had to get an abortion and MTV is going to put her out there for people to talk about and debate over. I don't think she's prepared for this, and this story bothers me for an entirely different reason other than the abortion issue.
Latest posts by DELUX Magazine
(see all)