For years I have been a hip hop head, and as a hip hop head you know the quest for finding dope music is a must! In a discussion about dope hip hop artist, one day my friend, Jason, also a hip hop head, put me on to Bas. Bas, raised in Paris, France his Sudanese parents later brought him to America, were they resided in Jamaica, Queens.
It was not until 2010 when Bas picked up a microphone and began rapping. Bas spent this time going to sessions and ended up meeting J Cole who was starting up his label Dreamville Records, which led to Bas being one of J Cole's first signees. Bas would go on to release a couple of mixtapes and his Dreamville debut "Last Winter"(2014), which featured J Cole on the song "My N_____ Just Made Bail".
Two years later Bas would release his critically acclaimed album "Too High To Riot", which features "Night Job, and Housewives. This album proved that Bas was and is a burgeoning force, as he displayed dope lyricism, and social awareness throughout the entirety of the album. One of my favorite tracks from the album "Clouds Never Get Old", features one of my favorite hooks
"But I ain't felt love in a long time/ and I told you that when we woke up
I guess that might have been the wrong time
My best pick up line is young n____ with money/ I ain't playing"
Bas is not like your typical New York rapper, so if you expecting to hear some gritty rap this may not suit your pallet. Growing up in the United Kingdom has definitely shaped his soundscapes on music and accompanied by Bas storytelling makes for a great mixture. On Bas latest album you can hear these sounds on songs like "Tribe', 'Boca Raton,' and 'Sanufu'". You can catch Bas February 7th at the Fubar on his Milky Way Tour, which also features Rexx Life Raj, K. Roosevelt, Innanet James, and Correy C.
Purchase tickets here: Bas Milky Way Tour St. Louis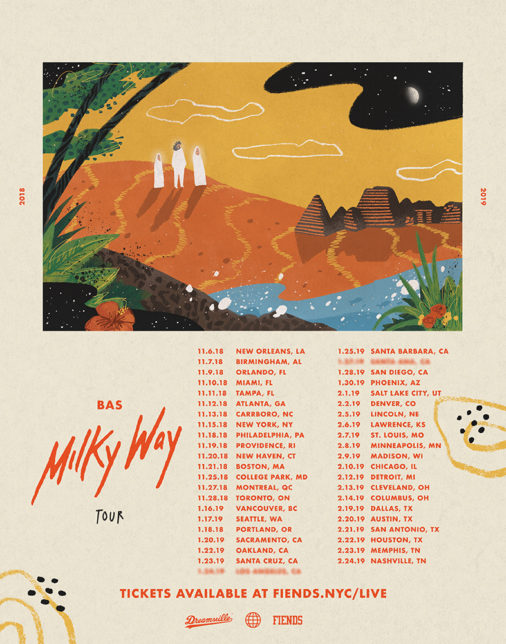 Latest posts by Elvin Chambers
(see all)
New Music Friday: Metro Boomin, Che Sanchez, + new singles added to Enforcer Friday

- Friday, June 2, 2023

New Music Friday: Lil Durk, Kodak Black Jay Worthy & Roc Marciano, + Sexy Redd and Nicki Minaj team up for Pound Town 2

- Friday, May 26, 2023

New Music Friday: NandoStL, Summer Walker, KaytrAmine, + more

- Friday, May 19, 2023