This year marks the 10 year anniversary of Rockwell Knuckles, "Choose Your Own Adventure", an album highly regarded as one of the best rap albums from the St. Louis Underground. Notable releases that year were Kanye West's MDBTF, Drake's Thank Me Later, Rick Ross, Teflon Don, Curren$y Pilot Talk and more. That year I played the HELL out of all of these records but none of them got more play and meant more to me that year than Rockwell's CYOA.
The St. Louis Underground rap scene is a spectacle to behold. It is talented as any other city and often overlooked by those who should support it most. There is a reason why this album, not mixtape, had such an impact here and beyond. Mixed by Trackstar the DJ, released on thesmokingsection.net, 2dopeboyz.com and Knuckle Rumbler, the CYOA composition felt like something different from Hip Hop out of St. Louis.
Perhaps like Kanye being Kanye over soul beats or Ross talking bricks and being a boss; Rockwell Knuckles paints pictures over dope tracks delivering a cinematic experience. CYOA was my introduction to the artist and was immediately enlisted in his Bullet Train Army. This is what the best are capable of producing, original music that does not age, consistently. Track by track and verse by verse CYOA and other Rockwell projects still stand up to this day.
In honor of CYOA's 10 year anniversary, Rockwell Knuckles has dropped all of his projects on digital streaming services. Rap music lovers can now listen to classic Rockwell Knuckles genius in full display! So stream the f*ck out his music, I know I sure will.
---
Choose Your Own Adventure
Must Listen to Records: Government Name, Choose Your Own Adventure, Wish You Were Here, Sorta invincible, Center of Attention, 2 Go @ Far
Breakout Hit: Spontaneous Lover (Governement Name)
Favorite Moment: SYGU 2010 TEESE Party at The Pageant I damn near broke my neck rushing the stage because Rocky was about to perform this song.
Favorite line: Government Name
She loves the way I kick game, she dont know me as Corey, She call me by nickname…

Government Name, Rockwell Knuckles
Favorite Line: Holograms
"Vibe so grimy. Aura so shiny. The people behind me, forced to follow me blindly…"

Rockwell Knuckles: Holograms
---
Projects Released on All Streaming Services Below.
Your F*cking Out, I'm F*cking In
Must Listen to Records: Bullet Train Army, Play Catch, Nomanisan Island Every Angle, Natural Born Leader
Favorite Line: Every Angle
Number one mission is to keep them safe, and they don't even know that we are in the same place, Billy Idol style, Eyes without a Face.

Every Angle, Rockwell Knuckles
---
Take Me To Your Leader
Must Listen to Records: Just a Blur, All Aboard, Underhanded Plan, On the Road/Wonderful Face
Favorite Line: Just A Blur
Time for action, time to go, i go hard. Joe Jackson of rapping, I'm teachin y'all how to be stars. I had minor setbacks because of total disregard, act like it never happen, we're right back on the boulevard living large.

-Just A Blur, Rockwell Knuckles
---
The David Ruffin Theory Hosted by TrackStar the DJ
Must Listen to Records: Hands Clean, Licensed Killer, Head Full of Smoke, Rap F*cked Up (Remix), In for the Kill
Favorite Lines: Rap F*cked Up, and In For the Kill
Mini Van full of Merch, team on alert, just being myself and that wild shit work. Wolverine of my team, better yet Bruce Banner because I turnaround and go berserk!

Rap F*cked Up, Rockwell Knuckles.
You wanna be down but all you can do is look. Look, I listened to Scarface and knew I could do it, listend to Siegel and knew I could do it, Listened to Beatles and knew I could do it, Me and Tef Poe will show you how to do it, but you are ridiculous looking so stupid.

Rap F*cked Up, Rockwell Knuckles
When I describe visuals out of my mind, close caption, photographic memory kind…custom designed this heart of mine she made an offer I can't decline. Do I want her cuz she beautiful or beautiful cuz i really want her, too high I cant decide? … Voices in my head talking loud saying we see you in enjoying our life.

In for the Kill, Rockwell Knuckles
---
It's All Happening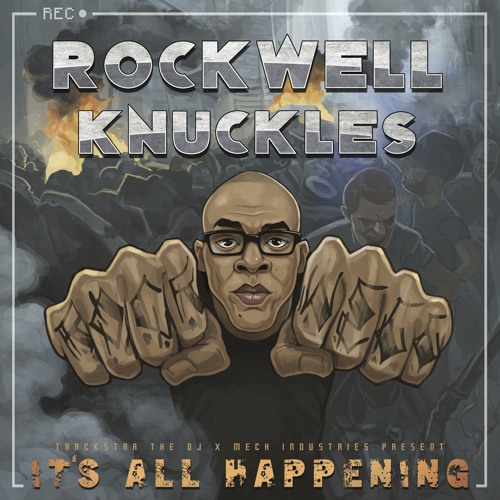 Must Listen to Records: The Ones That Knock, Morning Light, The Orange Glow, DSB
Favorite Line: DSB
As a leader you never know what you might do, save the life of somebody who don't like you.

DSB, Rockwell Knuckles
---
Previously Unreleased
With All Due Respect
I was going to leave this project out only because I have only heard it in pieces. All the other projects referenced here have been etched into my memory banks like a kid memorizing and Easter speech. I thought against this because this project was a joint effort in 2013 between Trifexkta and Rockwell Knuckles. When the two combine its just something to be hold. So please enjoy.
Final thoughts:
After hashing out the results of the Nelly vs Ludacris battle I wanted to honor and celebrate who and what I believe is a Top 3 artist, who happens to hail from the North and is the conductor and of the Bullet Train Army, and founder of Mech Industries. Salute to St. Louis, the St. Louis Underground, and all music lovers who will eventually be exposed to you.
Latest posts by DeWarren Smith
(see all)