I went into this show fully expecting to leave feeling like Katy at the Math-letes competition. The limit does not exist.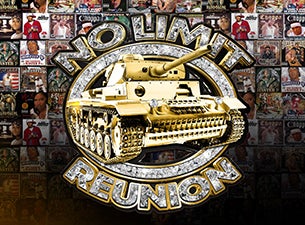 Instead, very early on, I learned that the limit had been exceeded long before this day for most of the people involved. The two openers were very random and definitely not for the demographic of the crowd. While JC was forgettable, T-Rell did make somewhat of an impression by basically performing snippets of other people's songs. But neither added anything to the show.

The host, G-Thang, was entertaining but also as part of his bit shed light on some deficiencies I hadn't noticed originally because the show hadn't really begun yet. He kept hinting at the show being behind or unorthodox in some way which, in hindsight, should have been taken as foreshadowing. Also, he jokingly mentioned that there wasn't a backdrop for the stage but I assumed it was just hidden until the main show started. It wasn't. There wasn't one. Just stock black curtain. Still I shrugged it off. As he continued to warm up the crowd. It bacante clear that he was winging the entire thing. From walking the crowd and making jokes about people, to many false starts with moving the show along. DJ Kut did most of the work as far as keeping the crowd engaged.

As G and Kut exited and the No Limit "DJs" took over, it was clear they were not real tour DJs. One of the legendary KLC and the other DJ Boosie. Usually the DJ for the headliners will play music and speak to the crowd to warm them up. They played obscure songs that kill the energy of the crowd. On top of poor crowd control and song selection, they looked like the roadies not performers, but that's another story and I don't have time. I am unsure if this was the first date of the tour but neither person spinning the records seemed to know the set list or how to take cues. Being a show DJ myself, I was especially disgusted by their performance. They should be controlling the show but they seemed more like guys that have a place on the stage to stand.

After several false starts, the show began. They had a random marching band on stage that you couldn't even really hear because the back tracks were too loud. Lots of random people were standing on the background on stage doing absolutely nothing. You know, the usual rap show antics. They did a group song and then for whatever reason P thought we needed to hear 3 songs from Mr. Serv-on. The crowd died. Next was Mia-X. She did well. Restored some faith for us even though I have no idea why she was before Fiend (or Silk). But on came Fiend. It was ok but nothing worth mentioning. Then Silk The Shocker spent 15 mins not remembering his rhymes. Crowd dead again. P returned for Ice Cream Man (also with a false start) then left again, very random.

Silk performed with Mystikal bringing on his set. He saved the show. Arguably the most successful musically, Mystikal had the most cohesive show and fluent set list. Even though the "DJ" blemished his set a little with a misstep, Mystikal was engaging and flat out fun. He was the most charismatic and had the best showmanship of anyone on the stage. As he wrapped I noticed people began to leave the arena. I'm not sure if they only held on that long to see him or they'd had enough of the poor production and finally quit.

Nonetheless, Master P returned to close out the show. For reasons I will never understand, he spent a lot of time calling the show a celebration and mentioning people we've lost to the grave or the system and again killed the crowd with a song I've never heard that was about loss followed by I Miss My Homies. More people left. He did a few more songs including Bout It Bout It & closed with Make Em Say Ugh for obvious reasons.

I can look past the lack of money put into the production and quality of the show. I can get over the barely hit wonders performing on the show. I can even forgive the messy setlist. But there is absolutely no excuse for doing an arena tour and coming out looking as though you haven't so much as done a run through. The DJs often played the wrong songs or didn't stop them in the correct places. P & Silk barely knew the words. Besides Mia and Mystikal, no one seemed to know how to properly hold a microphone so even if they were saying the words all you heard was the back track. As someone who's been going to concerts since I was about 7, I can say with much confidence that the light and video team did not work for P. They are probably the guys that do SLU basketball games there.

You cannot stand on a stage repeatedly reminding people how many records you sold or money you made and then not invest in a sound tour. Based on what I saw, the only budget for this show is travel. Even the t-shirts for sale looked like replicas you would normally see a bootlegger selling on the street outside the show. Who sells tour shirts without tour dates on the back? No one. So many signs that this show is pieced together it's unbelievable really. So a celebration? Maybe. But I've seen more organized and professional shows at high school plays.

I really wanted to love this show but it was bad. No terrible. Ok I said it. Hopefully they tighten up for their other dates as they continue to celebrate. Or whatever that was.

Coming up next to St. Louis is Twista! Who is performing at the Ambassasor Get your tickets now and let us know what you think of the show!
Twista Live in St. Louis http://bit.ly/2OAvuOd
Latest posts by DJ K Mean
(see all)