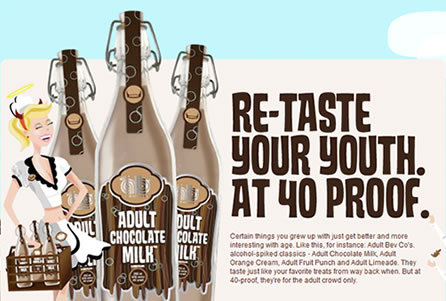 The new drink, which has the tagline "Re-taste your youth. At 40 proof" is the  invention of a Newport Beach, California mother who claims she came up with the concoction after her children went to bed one evening.
Uhm… &  GINUWINE is the Chocolate Milk Man (pause) see below
There are a lot of questions there, but moving on to the ones you probably have about the drink itself, the chocolate alcohol blend is sold in what looks to be a modified milk bottle, and though the word "adult" is the first thing in the name the cartoon style labeling is sure to leave some people concerned that the drink will become a draw for kids. We're guessing the same kids who can't find their chocolate milk because mom used all of it as a mixer. In all seriousness, the product doesn't sound bad but the promotion could use some modification to ensure the target market (those over 21) are the ones really being drawn in.
Nevertheless, Adult Orange Cream, Fruit Punch and Limeade are planned as future flavors, and Adult Chocolate Milk is available in a quickly expanding list of states, and online at Hitimewine for $23.99 a liter. Certainly not something most kids would be able to afford on allowance, so that's a start.
Just in time for the new year! Alcoholic chocolate drinks exist, so this is a more understandable combination than say Martha Stewart and White Castle, but Adult Chocolate Milk is sure to still raise a few eyebrows!
Latest posts by DELUX Magazine
(see all)